South Park: Scontri Di-Retti - Gold Edition
South Park: Scontri Di-Retti - Gold Edition
Preorder Now!
You will recieve your key when the game launches on the 31/02/2015 at 0:00.
IMPORTANTE: La chiave di attivazione dovrà essere utilizzata su un account Uplay valido. Richiede una connessione internet. Il codice di attivazione è valido solo in Europa, Africa, Medio Oriente, Oceania, Giappone e Sud.
Offerta del pre-order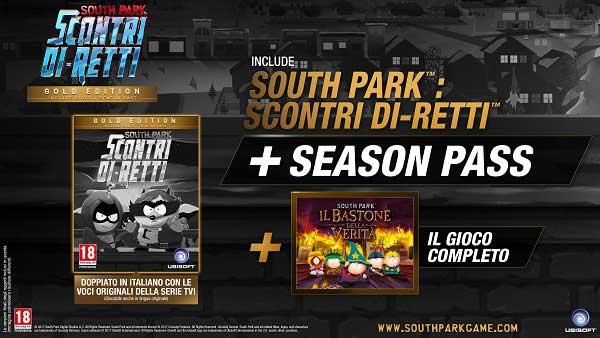 Prenotalo subito e ottieni Towelie, il tuo nuovo compagno di avventure.
Acquista in anteprima Scontri Di-Retti e scarica subito Il Bastone della Verità, gratuitamente, a partire da OGGI!
Gold edition
South Park™: Scontri Di-Retti™ Gold Edition include:
Informazioni sul gioco
I creatori di South Park, Trey Parker e Matt Stone, presentano South Park: Scontri Di-Retti, il sequel del pluripremiato South Park: Il Bastone della Verità, del 2014. Ancora una volta i giocatori prenderanno il posto di Novellino e si uniranno a Stan, Kyle, Kenny e Cartman in una nuova, irriverente avventura RPG.
In South Park: Scontri Di-Retti, i giocatori si avventureranno tra i crimini di South Park con Procione e i suoi amici. Questa squadra che combatte il crimine è stata messa insieme da Eric Cartman, il cui alter ego, il Procione, è metà uomo e metà procione. Il Novellino combatterà, insieme a Mysterion, Brico Boy, Aquilon Man e molti altri le forze del male, mentre il Procione tenta di fare del suo team la squadra di supereroi più amata al mondo.
© 2016 South Park Digital Studios LLC. All Rights Reserved. South Park and all elements thereof. © 2016 Comedy Partners. All Rights Reserved. Comedy Central, South Park and all related titles, logos, and characters are trademarks of Comedy Partners. Game software © 2016 Ubisoft Entertainment. All Rights Reserved. Ubisoft and the Ubisoft logo are trademarks of Ubisoft Entertainment in the US and/or other countries.
Lingua:

Italiano

Genere:

Piattaforma:

Numero di giocatori:

1

Data di pubblicazione:

31/12/2017

Editore
TI POTREBBERO INTERESSARE ANCHE